M.A.T. – a unique experience
LOCATION 
Helsingborg, Sweden
OPENING DATE
November 2013
CONTACT
Martin Stojanovski
BACKGROUND   
Bergendahl's M.A.T. (F.O.O.D.) has been touted as the first of its kind – a store that puts the culinary above all else, and offers unusual, inspiring and delectable experiences.
The store has a bakery, deli, sections for confectionery and spices, a fruit & veg "greenhouse" and much more. Currently there are two stores using the concept, one in Helsingborg and another in Vällingby.
THE CHALLENGE
It was central to the concept to offer a different feel and positive experience – to create a modern take on heading down to your local bakery, butcher's or greengrocer's for your groceries, but to have it all in one place for convenience.
M.A.T. is a compact but complete grocery store sited close to downtown, to draw a different demographic than Bergendahl's other chains.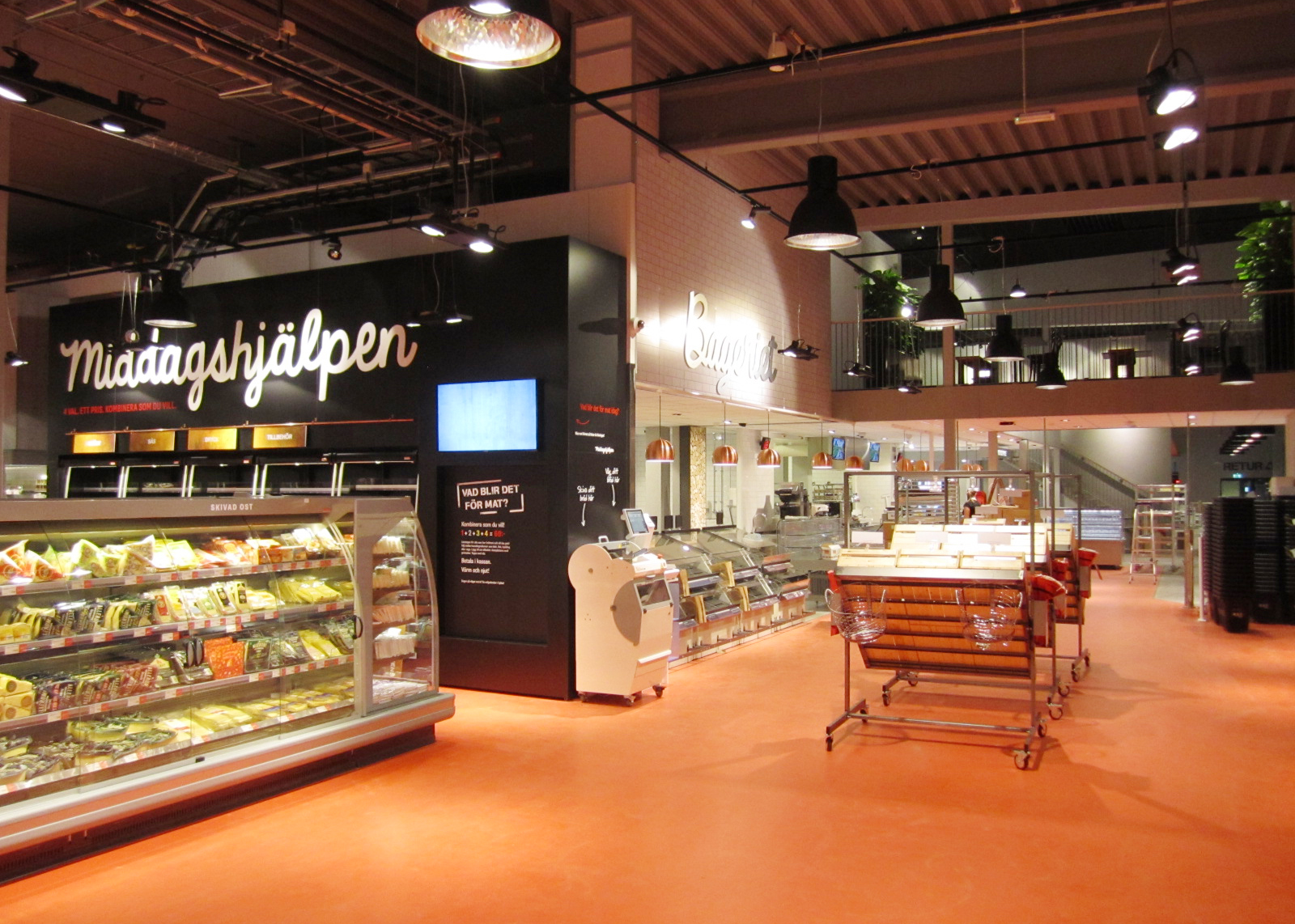 TEGO – MAKING AN IMPACT
The solutions we developed made a big impact on the store's style. While there's consistent elements throughout – like the iconic stencilled font – the departments are made distinct by the variety offered by our ceilings and lighting.
At the entrance, the high ceiling creates an airy space. With bread, delicacies and prepared meats, you get the impression of being in a market hall, complete with industrial materials like concrete, steel and tiles. Here we added tailor-made pendant luminaires to create a unique aesthetic.
Farther in you find spices and seasonings gathered under a low-slung ceiling, with floral patterns suggestive of the orient.
Elsewhere, we used specially made frosted panels, mounted on a grid of galvanised steel, to create a kind of "greenhouse" for the fresh produce. Low-hanging lights add to the "farmers' market" feel.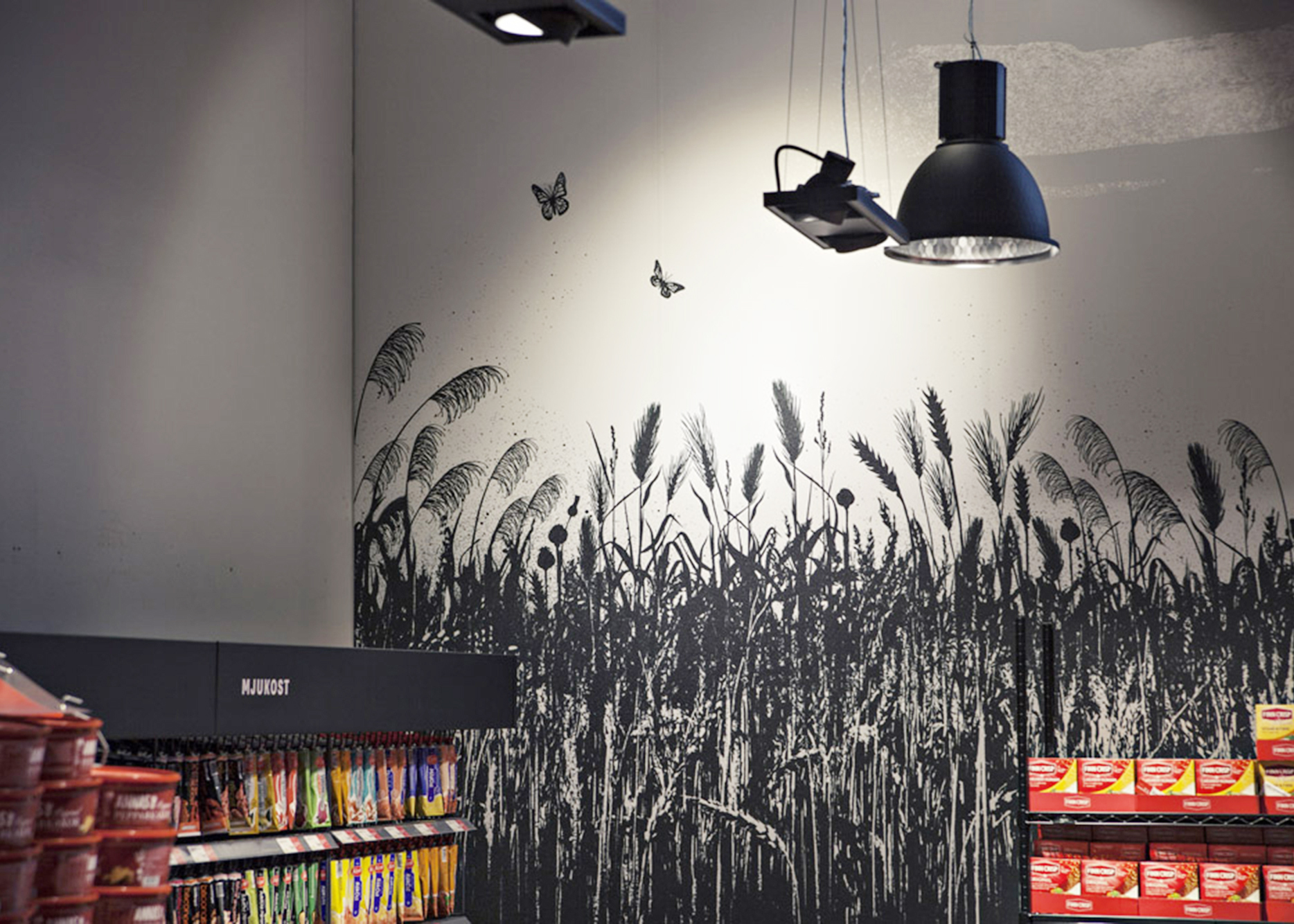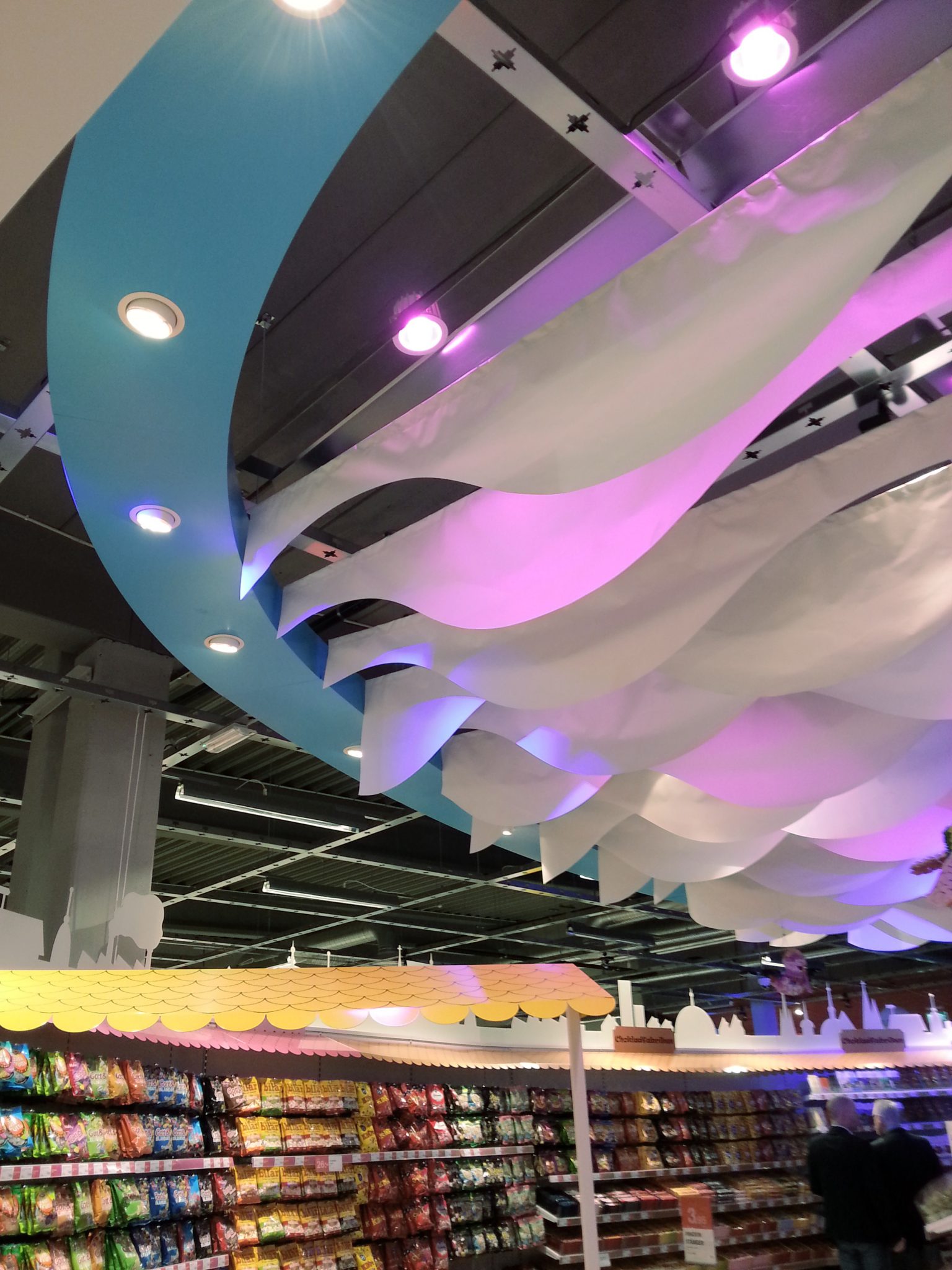 Lighting groceries requires care – get it wrong, and it may look unappetising. Here it turned out great, and the variation between departments enhances contrasts and lets the wares shine.
CREATING DISTINCT SPACES
Near the checkout, shoppers come across the usual tempting racks of sweets, but with a twist – City Gott, a playful pretend candy shop. The space is framed by partitions and, above, fabric arranged in vertical waves.
Using a lower ceiling at the checkout is a common way to create a calmer space where things naturally slow down. Our clients often choose acoustic ceilings for these areas, but here we used a fine mesh ceiling in red. The slight slope towards the exit helps to further frame the underlying space.
THREE TIPS FROM THE PROJECT 
M.A.T. shows that there aren't any limits on creative solutions when it comes to the choice and design of ceilings. The store is a vivid example of how to create a unique customer experience that leaves a mark.
·       Push the boundaries – let the store serve as a stage with creative touches.
·       Create distinctive spaces by using different ceilings and features that match the feelings you want to convey.
·       Use different types of luminaires depending on what kind of product you're lighting.
We're ready to make your store even better.